Enhanced Training
£ Call for prices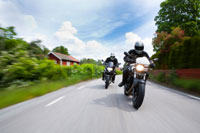 Enhanced motorcycle training in Chester, Northwich & Wirral
Enhanced Training is for the rider who really take their riding seriously.
Take this course if you want to realise how better positioning, handling, heightened awareness, improved planning and anticipation can increase your standard of riding and your enjoyment of motorcycling.
Making you a better rider
It's all about you. We'll put you through your paces and then analyse your strengths and weaknesses.
Your trainer will give you an in depth summary of your current level of riding and then provide you with a personalised training plan so that you can improve the areas of your riding that need it.