Back to biking
£ Call for prices
A day spent with us will polish your existing riding skills, teach you some new ones, eliminate bad habits and give you the confidence to get back out there and ride enjoyably and safely on modern machines in today's hazardous conditions.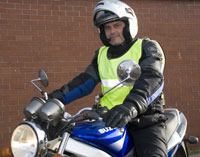 Get back to biking with Arrow Rider Training in Chester
Not ridden a bike for a while?
Feel a bit unsure about jumping straight back in the saddle?
Miss the wind in your face and the feeling of a hot throbbing engine between your legs?
If you've answered yes to any of these questions then you need one of our back to biking courses.
Who is it for?
If you already hold a licence, but haven't ridden for some time or if you have recently obtained an unrestricted licence by Direct Access training and wish to gain some confidence on bigger bikes before getting out and about on your own then our Back to Biking course is ideal.
Not sure?
If you're not sure then contact us for an informal chat (we love talking about bikes).
We'll be able to advise you on the best course of action depending on your situation and you can take it from there.
A word of warning though - once you get back on your bike you may never want to get back off!