Direct Access (650cc)
DAS is the only way to obtain a full bike licence with no power restrictions. To do DAS you must be over 24 years old, or have held an A2 licence for 2 years. The bike you take your test on must be a minimum of 600cc and be over 53 bhp.
Click here to see a simple flow chart that shows how the Direct Access training program works.
At Arrow we use the very user friendly Suzuki SV650 Gladius hire bikes and Yamaha MT07 Night Flouro bikes (pictured below) for all our DAS training courses.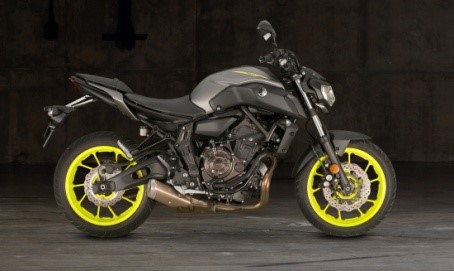 £ Call for prices
Day 1

Begin off-road on the car park, with a familiarisation and practice session. As soon as you have gained your confidence and control of the bigger bike, you will be back on the road to complete your riding tuition towards your Module One test.
Module One training £ Call for prices

We will book a training and practice session for you on the official DSA test site where the actual test is taken.
Day 2

A structured day of continuous theory and practical training on-road to ensure you are fully ready to attempt your Module Two practical test.